If you or someone you love has cataracts, it can be frustrating to live with the symptoms that come along with having them. The good news is that you can have cataracts cured with cataract surgery.
At Texas Vision, we're Cedar Park, Temple, and Georgetown's cataract specialists and are the premier center for all forms of vision correction. With a combination of state-of-the-art technology and experience, our ophthalmologists provide our patients with only the best care.
Schedule my FREE Consult
What is a Cataract?
A cataract develops when the ordinarily transparent natural lens of the eye becomes cloudy. Cataracts develop when proteins in the lens begin to break down and start clumping together.
Over time, they eventually make it harder for light to get through the lens, resulting in blurry or cloudy vision, among other challenging symptoms. It can take years or decades for cataracts to develop.
Because it takes a long time for cataracts to develop fully, you may not realize you have a cataract at first. Symptoms of cataracts you may experience include:
Blurry vision
Double vision
Glare or halos around light sources, especially if you're driving at night
Needing more light to complete detailed activities
Seeing colors as muddy, brown, or more faded
Needing to change your prescription for your glasses or contact lenses more frequently
It's important to realize that even if you find out you have a cataract, you may not need cataract surgery right away. Instead, most cataract surgeons only recommend having the procedure once you can no longer participate in everyday tasks and activities.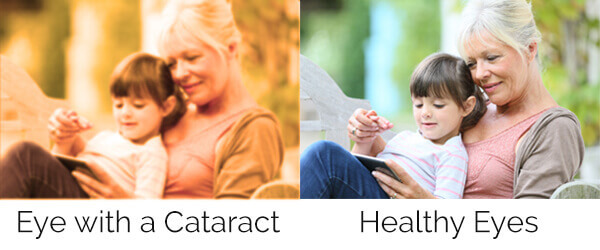 What to Expect During Cataract Surgery
If you find out that you need cataract surgery, it's always helpful to know what to expect before you have it. Cataract surgery is a minimally invasive procedure with a low risk of complications.
It's the most commonly performed medical procedure! Your surgeon will remove your natural lens during the procedure and then replace it with an artificial lens, known as an intraocular lens (IOL).
The intraocular lens allows you to see clearly after cataract surgery, and there are many kinds of IOLs available, depending on your visual needs, lifestyle, and goals after cataract surgery.
You'll choose your IOL based on the recommendations of your ophthalmologist before having cataract-removal surgery.
Schedule My FREE Consult
Cataract Symptom Simulator
IOL Options
At Texas Vision, we offer our patients the following intraocular lenses:
Monofocal Lenses
With a monofocal lens, this is the most basic intraocular lens available. It's a single focus lens, and each lens has a specific power. It's set to focus on either seeing up close, seeing things in between, or looking at something further away.
Most people choose a monofocal lens to see clearly when looking at things far away from them and then use glasses when they need to see at other distances.
A new monofocal lens was recently introduced that slightly extends the depth of focus, delivering an improved monofocal experience for patients. By lengthening the depth of focus, you can see more clearly at a distance and see better at night.

Accommodating Lenses
An accommodating lens is the closest intraocular lens to the actual shape of your eye. It moves and changes shape inside your eye, allowing for smoother focusing and transitions between different distances.
The slight movement of the lens provides more power when reading. Unlike other IOLs, accommodating lenses do not have any rings between lenses, allowing for more near vision than a monofocal lens.
Multifocal Lenses
For patients looking to see at both a distance and up-close simultaneously, a premium option like a multifocal lens does this and more. A multifocal lens uses different powers set at varying intensities, depending on what you're seeing.
The lens has rings that change; some of the rings are made for distance vision and others for seeing things up-close. Choosing a multifocal lens means you can reduce your dependence on glasses and contact lenses after cataract surgery.
Toric Lenses
For patients that want to correct astigmatism while removing their cataracts, there are toric lenses. Toric lenses are the only intraocular lens specifically designed for patients with astigmatism.
Astigmatism is a refractive error that occurs when the cornea is an irregular shape. Instead of being more like a basketball, the cornea is closer to a football. The difference in the shape of the cornea results in blurry or distorted vision.
Limbal Relaxing Incisions (LRI)
Another way to correct astigmatism during cataract surgery is to undergo limbal relaxing incisions (LRI). LRIs are partial-thickness corneal incisions precisely placed during cataract surgery.
With LRIs, your cataract surgeon will make a small incision at the limbus (located between the cornea and the sclera), where the cornea's curvature is at its steepest. Limbal relaxing incisions help reshape the cornea and make it rounder, allowing patients to see more clearly after cataract surgery.
Extended Depth of Focus Lens
If you're looking to improve your vision at most distances, a non-diffractive extended depth of focus (EDOF) lens could be worth considering. EDOF lenses give patients excellent vision when looking at things at an intermediate distance, which is helpful for tasks like sending emails on the computer, driving a car, or watching television.
The benefits of this lens is that it can increase the range of vision you can see things without glasses without the halos at night that can come with Multifocal lenses. You may still need some glasses for closer activities like reading smaller print or threading a needle.
Trifocal Lens
For patients looking to see with the clearest possible vision, no matter what, a trifocal lens may be the answer. You'll see clearly with no gaps in your sight, whether you're looking at something right in front of you, an object that's far away, or something that's at an intermediate distance.
If you're ready to see sharply and vividly, a trifocal lens provides the effortless vision you've always wanted. You'll also no longer need to strain to focus since trifocal IOLs mean no blurry zones.
With sharper vision, you can reduce your dependence on glasses and see in high-definition with bright, more vibrant colors. Choosing a trifocal lens means choosing vision as it should be.
Are you wondering if you may need to have cataract surgery? Schedule a FREE cataract consultation at Texas Vision at one of our 3 locations now!