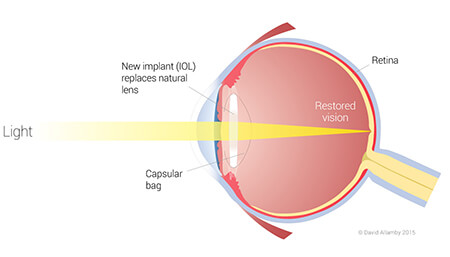 There have been safe and effective options for vision correction for several years. As technology has advanced the number of options has increased as well as the improvements in quality, safety, and efficiency of those options. While most people think of LASIK when they think of vision correction surgery, there are a few other very good alternatives we have to choose from.
For some people, LASIK is not the safest or best choice. Refractive lens exchange has become a very popular option we have been doing more and more of in recent years. Refractive lens exchange, or RLE, is not altogether a new technology. We've been performing lens replacement surgery for over 50 years. For most of those years, the surgery was reserved for those with clinically significant clouding of the natural lens, also known as cataracts. In earlier years the procedure had more risks, longer recovery time, and less predictable results leading many surgeons to delay surgery until there was significant loss of visual function before deciding to perform the lens replacement. As technology has advanced the risks have decreased, recovery has become very quick and the predictability of results has become increasingly, well, predictable.
When LASIK was the only good option we had many people that would be turned down for surgery because they weren't good candidates, or, sadly some had it done when it was wasn't the best choice and had some undue side effects. In the early days the motto of some LASIK mills seemed to be, "if I have a hammer, everything is a nail". I know this because I see these people in my clinic now, several years later, looking for ways to fix their eyes.

With LASIK we use a laser to reshape the cornea, or surface, of the eye to correct your vision. With RLE we replace the natural lens with a clear, artificial lens that we can has a specific power that can correct your vision. Every eye is different so we use highly advanced diagnostic equipment to measure your eye to calculate which type and power lens would work best in correcting your near-sightedness, far-sightedness or astigmatism. The lenses are permanent and can last the rest of your life. They don't degrade or dissolve and since we are replacing the natural lens you will never get cataracts in the future.
The lenses have evolved dramatically over the last 10 years. There is no lens yet that can make us 20 years old again but they have allowed us to increase our range of vision and also decrease our need for corrective lenses. For those of us that are now using reading glasses or bifocals, this is great news! The procedure typically takes less than 10 minutes per eye and you are usually back to doing most of your daily activities within a couple of days.
We can discuss with you the different lenses, their strengths, and weakness and figure out which option is right for you.